Would you like to present your project at the Prague Quadrennial of Performance Design and Space in June 2015? Don't hesitate and send us your proposals now! Besides the experimental Objects , Makers and Tribes exhibitions, we are also accepting submissions for the SpaceLab educational project, which is open to students and artists from around the world.
Are you an artist or an art school teacher or student? We offer the unique opportunity to submit your project to the Prague Quadrennial 2015, which will be held from 18 to 28 June 2015 in the historical center of Prague. The artistic concept of PQ 2015 includes not only country expositions, but also various project formats enabling the participation of individual artists. Our latest call for submissions is open to all artists who would like to lead workshops; the deadline for proposals is coming soon: 31 May 2014!
Individuals and art groups can also submit projects to the Objects and Makers exhibitions. Students from all fields (not just theater) can present their student performances in public space and on a theater stage as part of the SpaceLab project. Students and professional artists can also participate in the live exhibition called Tribes, which will take place in public and hidden-away spaces in the city center . The deadline for applications for these projects is 31 October 2014.
Individual calls for applications for the SpaceLab project
The SpaceLab educational project features workshops, performances, discussions and presentations by artists or students from around the world for thousands of other students and other PQ visitors. The submitted projects should reflect the main theme of PQ 2015, which explores theater as a shared space and scenography as a complex performative environment that touches on music, weather, and politics. The main venue for SpaceLab will be at Prague's Theatre Faculty of the Academy of Performing Arts (DAMU) in Karlova Street.
Workshops:
We are looking for artists from across the fields of visual and performing arts to lead workshops to vibrant international community of students and young professionals. We are seeking workshops not usually offered in schools that ideally combine at least two disciplines – one of them being performance design/scenography. We will also give special attention to workshops dealing with media, costume/body design, unusual and sustainable materials, and workshops taking place in public space.
All workshops proposals should be submitted through the registration form. Deadline for submission is May 31, 2014.
DISK Performances:
We are looking for current students and recent graduate companies to offer performances. We encourage work with a strong visual element, it can be high technology to no technology; it can be designed with a promenade or seated audience.
More information about the venue here. Please complete the registration form until October 31, 2014.
Street Performances:
We are looking for students and young artists from across the fields of visual and performing arts to bring their work to the Prague centre. Proposed projects should engage with the possibilities of using the street as a canvas to your work, embracing your setting and geographical location.
If you would like to submit a proposal for Street Performances please complete the registration form until October 31, 2014.
Individual calls for applications for the experimental exhibitions of the PQ´15
Objects:
The Objects Exhibition aims to exhibit props and their stories, and is commissioned by the artist and architect Tomáš Svoboda (CZ). Artists are encouraged to provide props and their stories to be exhibited at Nová síň Gallery during the PQ 2015. We will exhibit not only the props themselves but also the stories by means of video installation.
Details of the proposal HERE.
Makers:
The Makers Exhibition is a new, experimental addition to the main expositions of the Prague Quadrennial 2015 aiming to exhibit the living makers in the act of making. Each Makers team is asked to announce their theatrical theme in their food design when they apply for the Makers Exhibition. The theme should be a reference to an existing play or a performance. Individual Makers team will make a full performative food journey for the audience to see, smell, hear, eat and experience. The Makers Exhibition is commissioned by Rebekka A. Ingimundardottir, an Icelandic theater maker and scenographer.
Details of the proposal HERE.
Tribes:
In the Tribes Exhibition the artifacts of the exposition will be living people and the exhibitions' scenography will be the public spaces of Prague. The Tribes will be invited to follow a designated route through more and less public spaces in the center of the city. Each Tribe will have an opportunity to present a 10 minutes performance on a public space stage. The Tribes Curator is PQ Artistic Director Sodja Zupanc Lotker (CZ).
Details of the proposal HERE.
The Prague Quadrennial of Performance Design and Space is the largest scenography event in the world that explores a wide range of scenographic practices – from stage design and costume design to lighting design, sound design and new scenographic practices such as site-specific, applied scenography, urban performance, costume as performance, and much more. Traditionally, the eleven-day event is attended by thousands of artists from 80 countries and 50,000 visitors. The Prague Quadrennial of Performance Design and Space 2015 will take place June 18 – 28, 2015 in Prague.
The main theme of the Prague Quadrennial 2015 is SharedSpace: Music, Weather Politics 2013–2016, which is common for international project the PQ is organizing in cooperation with 11 European partners. The core of the project are symposia, meetings and exhibitions throughout Europe and the project will culminate at Prague Quadrennial in June 2015 in Prague.
Prague Quadrennial
Celetná 17, Praha 1, 110 00
Phone: +420 224 809 102
Fax: +420 224 809 225
e-mail: pq@pq.cz
www.pq.cz
Follow us on Facebook and Twitter
The Arts and Theatre Institute takes care of the Prague Quadrennial of Performance Design and Space, therefore it bears intensive relations with the theatre community and the international non-governmental organisation of scenographers, theatre architects and technicians OISTAT. It organized the third World Stage Design at the Royal Welsh College of Music and Drama in Cardiff.
It was the exhibition of 117 scenographers from all around the world. The international community and local students had the possibility to enjoy a programme full of workshops, lectures and performances, which worked very innovatively with space, costumes and light. Czech scenographer Simona Rybáková received an important award for her work Air – Alien – Mucha's Epic created with the brothers Caban's team. The work was exhibited in the category of costume. Kristýna Täubelová, the talented Czech scenographer, prepared the performance called Jednoduchá tragédie/A Simple Tragedy and the Institute of Light Design, the progressive independent organization cooperating with Czech theatre stages, had a presentation at discussion forums. The next World Stage Design is going to take place in four years in China, Taiwan or the Philippines.
The Czech general public is going to have a chance to see the award-winning work of Simona Rybáková as well as works by dozens of Czech scenographers of all generations. The Czech Organisation of Scenographers, Theatre Architects and Technicians resurrects the traditional professional exhibition Salon of Czech Scenography, which last took place in 2005. The people in Brno have the chance to see contemporary Czech scenography at the Reduta Theatre in Brno from November 22 – December 6, 2013. The exhibition then moves to the Czech Centre in Prague from April 2 – 11, 2014. The event takes place under the auspices of Professor Jaroslav Malina. Significant scenographers Marie Jirásková and Jana Preková have the architectonic supervision.
Simona Rybáková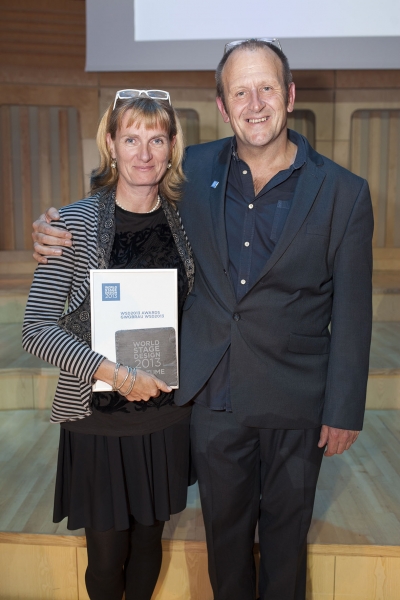 extile and costume designer Simona Rybáková studied at the Academy of Arts, Architecture and Design in Prague, at the University of Applied Arts in Helsinki, Finland and at the Rhode Island School of Design in Providence, the USA. She was a member of the executive board of the international organization of theatremakers OISTAT (1997-2009) and she is currently a member of the commission OISTAT Performance Design for the Czech Republic. In 2009, she received the Golden Triga for the best exhibition at the Prague Quadrennial and she was a curator of the exhibition Extreme Costume at the PQ11. Due to the wide scope of her education and experience from her own theatre and dance group, she has managed to work in many areas of costume production and apply their influence and inspiration. Apart from costume designs and costume production, she has created her authorial textile prints, carpets, jewellery, sculptures and drawings. Currently, she creates costumes for television, film and dance projects, concerts as well as site-specific projects and exhibits her works at many venues all around the world.
Salon of Czech Scenography:
National Theatre Brno–Reduta Theatre, foyer
Zelný trh 313/4, Brno
November 22 – December 6, 2013
Opening: November 21 at 5 p.m.
Czech Centre Praha
Rytířská 31, Praha 1
April 2 – 11, 2014
Opening: April 1 at 5 p.m.
www.cosdat.idu.cz
www.wsd2013.com
www.idu.cz
In April 2014, there will be an international symposium designed mainly for curators from the participating countries and regions to take a closer look at the PQ 2015 artistic concept and the event's structure, to meet the commissioners of particular sections, and to visit the exhibition spaces of the Prague Quadrennial 2015.
The central theme of the Prague Quadrennial 2015 will be SharedSpace: Music Weather Politics. It is based on a large international three-year project (2013-2016) of the same name, which is organized by the PQ in cooperation with 12 European partners. The project consists of a slate of symposia, meetings, and exhibitions held throughout Europe that culminates at the Prague Quadrennial in June 2015 in Prague, Czech Republic.
Further information on the official announcement of the Prague Quadrennial 2015 will be available in following weeks on the PQ website and social networks.
PQ 2015 Announcement – timeline
September 2013
announcement of the PQ 2015 and its artistic concept
January 31, 2014
deadline for individual countries and regions to apply for participation in competitive sections of the PQ 2015
April 2 – 5, 2014
international symposium for curators of individual countries and regions, in Prague, CZ
www.pq.cz 
www.facebook.com/praguequadrennial
https://twitter.com/PQ2015
Prague Quadrennial is organized and funded by the Ministry of Culture of the Czech Republic and realized by the Arts and Theatre Institute.
With the support of the Culture Programme of the European Union. 
Jarmila Gabrielová was born on 28 July 1928 in Bystřice pod Hostýnem. After five years of primary school her parents sent her to a secondary school specialising in languages founded by Tomáš Baťa in Zlín, where she was enrolled in the French department. The hard years of wartime occupation of the country restricted her personal and educational opportunities, and she even contracted a serious illness.
After graduating from secondary school in 1946 she studied journalism and then began working at the Ministry of Culture. She applied her language skills working in the department of foreign cultural relations, where she had an opportunity to learn about the work of cultural institutions at home and abroad. It was during this period that she met her future husband František, with whom she raised two children.
In 1958 she accepted an offer from the head of the then recently founded Theatre Institute in Prague, Dr. Eva Soukupová, to help build the institute's external relations department, and she helped to prepare a journal of information on Czech theatre for foreign readers.
Soon after joining the Theatre Institute she established cooperation with similar institutions abroad. This was not always easy to achieve in the difficult political and social circumstances that reigned under the regime in power at that time. Nevertheless, the Theatre Institute soon began to participate in the promotion of Czech and Slovak theatre culture and to take part in various theatre activities and international theatre projects. Jarmila Gabrielová was largely instrumental in founding national centres of international non-governmental theatre organisations whose central offices were at the Theatre Institute. She was for many years the administrative head of many of them – e.g. the ITI (International Theatre Institute).
Among the professional activities that warrant highlighting in her career is the Prague Quadrennial. She contributed greatly to the preparation and implementation of this international competitive exhibition devoted to stage design and theatre architecture, the uniqueness of which makes it one of the most highly valued international cultural events. She was involved in its founding and worked with foreign partners on ten editions of the event between 1967 and 2003.
The first exhibition of scenography and theatre architecture got strong response and high praise and PQ 1967 became a powerful impulse to create further international organisations.. She was with other colleagues and experts instrumental in founding OISTAT, which based its general secretariat in Prague, where she held the position of head of administration until 1993. She edited OISTAT's press materials and published some of them. She summed up her many years of experience into Chronicle of the Prague Quadrennial, published by the Theatre Institute in 2007. In recent years, to the extent that her illness allowed her, she worked with equal meticulousness and dedication on a history of the ITI.
During her long career she created friendly connections with theatre artists around the world. Her erudition, language skills, and subtle diplomatic tact helped her to overcome many barriers. Set of skills especially important under the previous regime. She was always kind to her colleagues, and she never misused her superiority. For her the common project was the most important thing. And she took pleasure in everybody's success. In a way she became one with the Theatre Institute, to which she has devoted a great deal of time and energy.
Her own words are testimony to her humility and graciousness:
'Over these many years I have met and come to know many interesting, kind, and loving people, outstanding individuals, reliable, true friends. I am very grateful to them and to fate for this. And I hope I was able to contribute something positive to the work and to interpersonal relations, to create the kind of friendly atmosphere so essential to productive exchange.'
We thank you in advance for submitting your personal memories of Jarmila Gabrielová, in writing, which we will include in a book of tributes that will be given to her family and stored in the PQ Archives.
A study of the economic impact of the Prague Quadrennial of Performance Design and Space, held last year in Prague, reveals that it was one of the most successful cultural projects of 2011, not just for artists, but also in an economic perspective. Research conducted among 18,000 individual paying visitors showed that in connection with their attendance at this event people spent more than 164 million Crowns and there was an increase in revenue of 393 million Crowns. Every Crown in the budget of the Prague Quadrennial thus generated almost 6 Crowns in revenue for the Czech economyand two Crowns of GDP.
The materials published online come from the scenography collection of the Theatre Institute founded in 2006, which today has almost 2,000 original stage and costume designs and models, and from the collection of scenographic documentation, which has been systematically put together over the course of the existence of the Theatre Institute.
Production of the Year
1) Paul Claudel: The Break of Noon (Polední úděl), Theatre in Dlouhá Street (Divadlo v Dlouhé), Prague, directed by Hana Burešová, adapted by Hana Burešová and Štěpán Otčenášek
2) Patrik Ouředník, Dora Viceníková, Jan Mikulášek: Europeana, National Theatre Brno – Reduta Theatre (Divadlo Reduta – Národní Divadlo Brno), Brno, directed by Jan Mikulášek
3) Philip Glass: Les Enfants Terribles, National Theatre (Národní divadlo), Prague, directed by Alice Nellis
Best Actress
Helena Dvořáková – Ysé in the production of Hana Burešová The Break of Noon (Polední úděl), Theatre in Dlouhá Street (Divadlo v Dlouhé), Prague
Best Actor
Martin Pechlát – Andreas Karták in the production of David Jařab The Legend of the Holy Drinker (Legenda o svatém pijanovi), Prague Chamber Theatre – Comedy Theatre (Pražské komorní divadlo – Divadlo Komedie), Prague
Theatre of the Year
1) Prague Chamber Theatre – Comedy Theatre (Pražské komorní divadlo – Divadlo Komedie), Prague
2) National Theatre Brno – Reduta Theatre (Divadlo Reduta – Národní Divadlo Brno), Brno
3-4) Buranteatr, Brno
3-4) Theatre in Dlouhá Street (Divadlo v Dlouhé), Prague
Best Czech Play in Repertory
1) David Drábek: Chocolate Eaters  (Jedlíci čokolády), Klicpera Theatre (Klicperovo divadlo), Hradec Králové, directed by David Drábek
2) Miroslav Bambušek: Czech War (Česká válka), Theatre on the Balustrade (Divadlo Na zábradlí), Prague, directed by Martin Glaser   
3) Petr Zelenka: Endangered Species (Ohrožené druhy), National Theatre (Národní divadlo), Prague, directed by Petr Zelenka
Best Set Design
1) Martin Černý – set design for the production The Break of Noon (Polední úděl) by Paul Claudel, Theatre in Dlouhá Street (Divadlo v Dlouhé), Prague
2-3) Marek Cpin – set design for the production Embarrasing Torture (Trapná muka) by
Karel Čapek and Jan Mikulášek, Goose on a String Theatre (Divadlo Husa na provázku), Brno
2-3) Jan Nebeský and Jana Preková – set design for the production King Lear (Král Lear) by William Shakespeare, National Theatre (Národní divadlo), Prague
Best Music
1) David Babka – music for the play Wanted Welzl by Karel František Tománek, Dejvice Theatre (Dejvické divadlo), Prague
2) Aleš Březina – music for the play King Lear (Král Lear) by William Shakespeare, National Theatre (Národní divadlo), Prague
3-4) Miloš Štědroň – music for the play Leoš, or, Your Most Faithful (Leoš aneb Tvá 
3-4) Xindl X (Ondřej Ládek), Dalibor Cidlinský jr. – music for the play Cyrano!! Cyrano!! Cyrano!! by Edmond Rostand, Pavel Kohout, Xindl X, Theatre in Vinohrady (Divadlo na Vinohradech), Prague
Talent of the Year
Michal Isteník, actor

Playwright's Competition
1) Jan Kratochvíl: Vladimir's Slut (Vladimirova děvka)
2) Nenad Djapić: Vienna Sin (Vídeňský hřích)
3) Iva Procházková: Gross (Brutto)